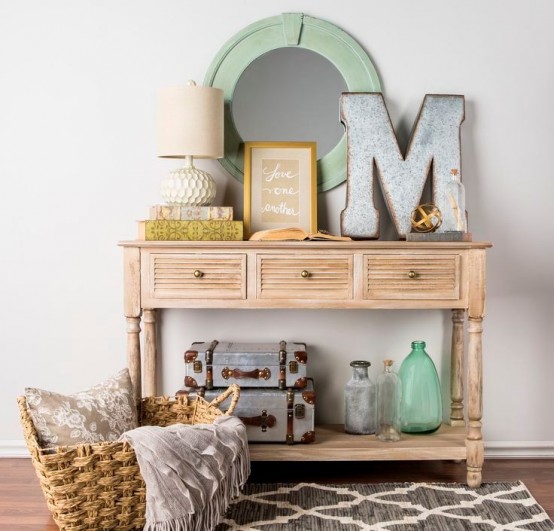 Farmhouse Decor Displays (THE #1, BEST Farmhouse Decor Tip)
Farmhouse decor displays or exhibits are the best ways to start and execute a beautiful farmhouse design.
Use furniture pieces like desks, dressers and hall tables to create farmhouse "exhibits".

Furnishings with natural, matte and rescued or restored finishes are staples in creating the farmhouse look.
Dress your farmhouse display piece with accessories like:
Stack them to use as a platform to display other decor items like: wild flowers, vases, mason jars, lamps, candleholders, etc.
Lean them against the wall and overlapping each other. This is a great way to introduce some farmhouse colors into your design like teal, burnt orange or anything with a whitewash coating. DIY Opportunity: Make your own farmhouse theme picture frames with a little paint and sandpaper. Once paint on frames is dry sand the wood frames in sporadic patterns exposing the natural wood beneath.
Display different types of glass jars, bottles and vases in your farmhouse exhibit. The options are endless and accessible. You probably have what you need around the house already.
DIY Opportunity:

Spray paint ordinary glass jars, vases and even wine bottles to go with your farmhouse design.
Antique or Rescued (looking) Mirrors
Place an old or old appearing mirror on your display piece leaning against a wall. Lots of options here too. Don't be afraid to mix metals or finishes. That old gold-framed mirror would be perfect even if you're already decorating with silver candlesticks.
DIY Opportunity:
Mirrors with wood frames can be hand sanded to appear more aged and rustic.
Arrange plates, gravy bowls and other ceramics in your farmhouse design. I prefer white but you can get creative as long as you adhere to the rustic or aged look.
Functional as well as decorative, baskets are great farmhouse decorations. Place them on a bottom shelf of a display furniture piece or on the floor beneath. Use them for storage or continue the farmhouse design and decorate the baskets with farmhouse accessories like:
Rolled up burlap
Throw pillows
Blankets or throws
Decorative sticks
Because of their size and the universal need to know the time, wall clocks tend to make an appearance in a lot of home decor themes. They are included in our farmhouse theme because rustic, restored or rescued looking wall clocks are very accessible, affordable and their grandeur translates your theme easily.

More Fun with Farmhouse Decor...
Shelves - Making use of shelving can only improve your farmhouse design. Display decor items like:
REMEMBER: Anything vintage or farmhouse can be found at your local thrift store. The key is to look at these items beyond what they may have originally been used for. Almost anything can be decorative. So look at old junk with a new perspective.
Jars
Plants
Birdcages
Photo frames
Wooden or vintage signs
Aluminum buckets
Canteens
Candlesticks
Vases (with sticks, branches, wild flowers, wooden kitchen utensils, etc.)
Antique perfume bottles
Antique liquor bottles
Antique Cocacola bottles
Statues and figurines
Lanterns
Folded or rolled burlap materials, sacks, etc.
Vintage alarm clocks
Antique skeleton keys
Straw hats
Washboards
Chalkboard signs
Vintage desk fan
Tin containers
White ceramic dishes, pitchers
Antique hand mirrors
Old license plates
Aluminum or wood alphabet letters
Vintage board games
Vintage serving trays
Burlap or vintage-looking grocery sacks
Old cowboy boots
Vintage-looking aprons
Lace doilys
Old garden tools